Personal Notes:»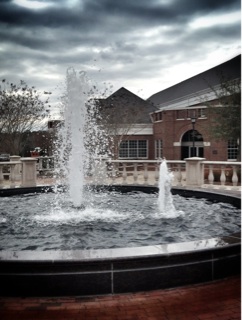 Fountain on the Campus of Campbell University
I am honored and thrilled to be with you talking about 21st century learning. The irony is not wasted on me, that you've asked an educator of 37 years to talk to you about the modernization of education. But in a way, I am the perfect speaker for this event, because I have witnessed and been a part of the most exciting 30 years of the profession, and a redefinition of what it means to be educated. Being educated today is not so much what you know as it is what you are able to learn. According to a recent document from the Department of Education, the average adult in America today will hold at 11 jobs between the ages of 18 and 46. ("Number of jobs," 2012) They won't go back to the classroom to gain the skills they need to get those jobs, and neither will you go back to the classroom to adapt your skills to the changing school environment.
You will be teaching in classrooms where every student has access to Google at any moment, and they will write blogs and books, develop useful software, contribute to community and national discussions, and will, on occasion be more skilled at something than you are. Get use to it.
There is very little that I can say in an hour that will prepare you for this time of rapid change. I will, however, talk about learning in an increasingly networked, digital and information-abundant world, because schooling, during our career, will have very little to do with teaching.
One of the best pieces of information that I can share with you is a list of other professional educators to follow through their blogs and Twitter postings:
Bloggers to follow:
Tweeple to Follow:
Online Handouts
U.S. Department of Labor, Bureau of Labor Statistics. (2012). Number of jobs held, labor market activity, and earnings growth among the youngest baby boomers: Results from a longitudinal survey (USDL-12-1489). Retrieved from Bureau of Labor Statistics website: http://www.bls.gov/news.release/pdf/nlsoy.pdf