Personal Notes:»
Taken by Aaron Tuckwood
Ill spend two days with the community and educators with the Elk Island School District and talking about several subjects. But they all break down to three converging conditions that are changing education and even what it means to be educated.
My talk with parents on Thursday night is about these three conditions, a three-bullet elevator pitch that is titled, "Harnessing the Perfect Storm." We are, today, preparing a new generation of learners, within a new information environment, for a future we cannot clearly describe. Each of these conditions has profound implications in terms of what and how our children learn.
On Friday, Ill deliver a keynote address about the kids, Cracking the Code of the Digital Information Experience. I will suggest that we pay attention to how our children using information and look for clues as to how we might craft better learning experiences from their perspectives. I will also deliver a presentation about a different way of looking at literacy and one on how teachers are using this new notion of literacy to engage in personal professional development.
Here are links to the handout pages for each of these sessions.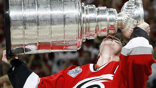 It is a pleasure to be back in the Edmonton area. Its a long way from my home in North Carolina, but we have an important connection. Specifically, its the night that our Hurricanes defeated the Edmonton Oilers for the cup. Truthfully, I dont pay much attention to hockey, and neither do most North Carolinians. But we do have a lot of folks moving in from New York and Michigan, so there is a home there for hockey.
I had a wonder day with you and some fantastic conversations. I believe that the message that teachers at Elk Island could deliver to teachers in my country is that teacher should be adventurous.
Powered by Hackadelic Sliding Notes 1.6.5