Personal Notes:»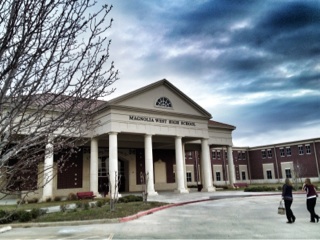 Magnolia West High School
It is an honor to be with you today to talk about, well, "Learning 2 Learn." One thing that I have come to realize in the 37 years I've been an educator, is that teaching and learning are quite nearly synonymous. From being a textbook-based history teacher to what I do now, there's been a whole hill of learning. And that learning has changed dramatically. When first learning (teaching myself) to program computers, I bought books. Now I search the Internet. I carry all my instructions with me.
This sense of learning, what I like to call our Learning Lifestyle, requires this type of access to a world of information — as close as our pockets. That is what is so important about your move to networked learning environments. Regardless of whether its about BYOD, or its a school laptop program, what it's about is networked learning – and this necessitates new learning skills, or another way of saying it is an expanded sense of what it is to be literate. Today literacy is the skills involved in using information to learning what you need to know, to do what you need to do.
Here is a link to the article about creating an RSS feed for Twitter searches:
Anyway, here are some links to handout pages where you can access lists of links, documents, bibliographies, etc.